Portland cement and its predecessor Roman Cement both needed power for grinding operations. As with other developments in the Industrial Revolution, there was a tendency for industry to locate itself where cheap "natural" power was available. Parker's Roman Cement plant at Northfleet (which became Robins) ground its materials using a windmill and an ancient tidal mill. However, the power requirement for Portland cement was greater, because of the need for raw material grinding, and because clinker is relatively hard, and when William Aspdin took over Parker's plant, he almost immediately installed steam engines for extra power. The amount of power needed to drive the moving parts of a cement plant increased rapidly up to about 1970, when a gradual downward trend began. The first plants to make Portland cement probably used less than one twentieth of the motive energy per tonne of product compared to a late 20th century plant. This was not so much due to lack of energy – which was cheap and freely available – but the lack of heavy-duty equipment that could use it. An early plant would have a wash-mill to make the slurry, and flat stones to grind the clinker, both producing only a coarse grind and tiny output, but using little power. Typically a small steam engine would run both, using a system of lay-shafts and belts. All other operations would use human power or horses. As the number of drives required increased, more steam power was provided, and by the end of the 19th century plants often had several different power plants, using gas engines as well as steam.
From the 1890s, some power was used to generate electricity. Electricity was initially used only for lighting - arc-lights were well suited to outdoor applications. For example, Bevans installed its first generator - a 25 kW dynamo - to light its quarry washmills and wharf in 1898. The arrival of rotary kilns corresponded more or less with the development of reliable electric motors, and although some rotary kilns were turned by steam power for many years, electrification of motive power in many cases began with the rotary kilns: the first appears to have been at Shoreham in 1900. The next few kiln installations, some of them very large, generally used direct steam power via lay-shafts, although most were subsequently fitted with electric motors.
The electricity was initially always produced on site, typically using gas engines to drive the generators, and at some locations on-site generators remained a feature (if only for back-up) for many years, the last probably being those at Kent, which still ran in the 1950s.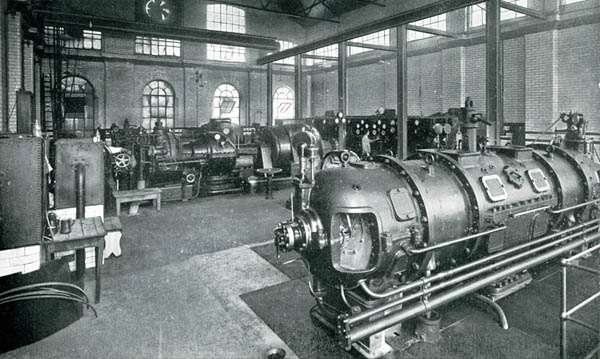 Power plant at Wilmington, around 1920. The nearby Stoneferry plant was also supplied from here. Shown are three 1.5 MW turbo-generators, two by Siemens and one by Brush Ljungstrom. The boiler house was adjacent to the left.

However, it is usually much more economic to use purchased power, and by the 1930s the majority of plants were taking power from local power stations: the first appears to have been Billingham, well placed in an industrial area, as early as 1907. Local grids began operation in 1933, and the National Grid began in 1938. During the 1930s, most of the Thames and Medway industry was supplied by the Barking power station of the London Power Company.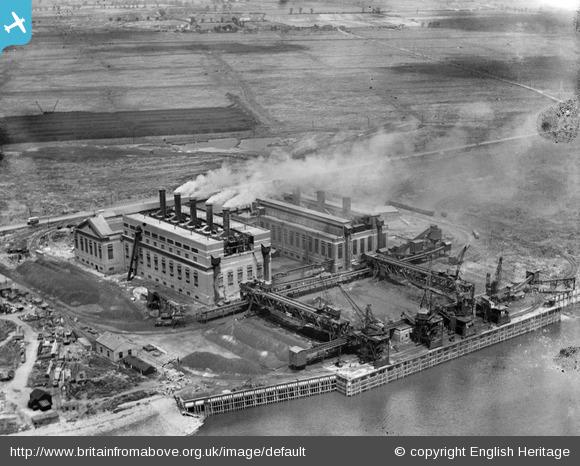 Picture: ©English Heritage - NMR Aerofilms Collection. Britain from Above reference number EPW032828.
Britain from Above features some of the oldest and most valuable images of the Aerofilms Collection, a unique and important archive of aerial photographs. You can download images, share memories, and add information. By the end of the project in 2014, 95,000 images taken between 1919 and 1953 will be available online. Barking A Power Station of the London Power Company commissioned 1925. It had a capacity of 240 MW, of which the Thames and Medway cement industry took about one third. View in High Definition.

Probably the last off-grid power house was that installed at Southam in 1937. In more recent times, only the more remote plants are provided with back-up generators, although kilns are always provided with a basic back-up drive in the event of power failure, usually consisting of a diesel engine, so that the kiln can be rotated slowly, minimising the risk of distorting the shell or damaging the refractories. Uniquely, the Quinn plants at Derrylin and Ballyconnell, although provided with grid power, are more or less self sufficient in power from their own 54 MW (peak) windfarm on Slieve Rushen.

Modern integrated plants might use 100-120 kWh per tonne of cement production, so a million tonne per year plant might draw up to 22 MW. This means that cement plants are relatively large power customers in areas that are often otherwise rural. In common with other major power users, cement companies can negotiate favourable electricity prices by managing their consumption in ways that are convenient to the power supplier. The main broad strategies employed are:
Cheap Night-time Power. In the British context, domestic electricity demand is highest in the winter, and during the daytime. On the other hand demand for cement is lowest in the winter, so the manufacturer can fit in with the needs of the grid by concentrating its production into the night hours. This benefits the power supplier by evening out demand, but means some surplus capacity has to be maintained on the cement plant.
Maximum Demand Management. This consists of an undertaking to avoid large peaks in demand which might put a strain on the grid, the monthly electricity bill being based not on the total monthly consumption, but on the peak day's consumption. It therefore pays the manufacturer to maintain a very constant day-to-day consumption, and erratic demand is punished with a high bill.
Load Shedding. This consists of an undertaking to shut down most or all of the plant for a few hours at short notice, so that if the power supplier has a breakdown or maintenance shutdown, the demand can be lowered without power cuts. The supplier must call one such event in every annual billing period, even if no emergency occurs. The reward to the cement manufacturer is proportional to the amount of load shed when this is called for. Generally speaking, the plant attempts to cut all power except that to the kilns.